The 2023 Ballon d'Or award, presented by France Football magazine, celebrated the outstanding football talents of the 2022-23 season. The event was hosted by former Chelsea star Didier Drogba, who had previously presided over the last three Ballon d'Or galas, alongside French journalist Sandy Heribert. The accolades were based on performance during the season, encompassing the period from August 1, 2022, to July 31, 2023. This prestigious event took place on October 30, 2023.

Who won the Ballon d'Or 2023?
On 30th October 2023, Lionel Messi won the 2023 men's Ballon d'Or. Messi wins his eighth Ballon d'Or award recognizing top soccer player of the year. Messi thanked his Argentina coach, teammates, and staff for making his victory possible. "Tonight I'm enjoying myself. It's a pleasure that will never leave me, and I hope to be able to enjoy it for many years to come," Messi said through a translator. "Becoming world champion was the title we were missing. I'd like to thank everyone who helped make Argentina the world champion team."
"This title and this trophy," Messi said, "I share them with you and all our Argentina comrades." "I'm very happy with the decisions I've made and to be with Miami," Messi said. "I couldn't imagine having the career that I've had. Everything that I've achieved. The fortune I've had playing for the best team in the world, the best team in history. It's nice to win these individual trophies. To win the Copa America and then the World Cup, to get it done is amazing," Messi added.
Everything To Know About Lionel Messi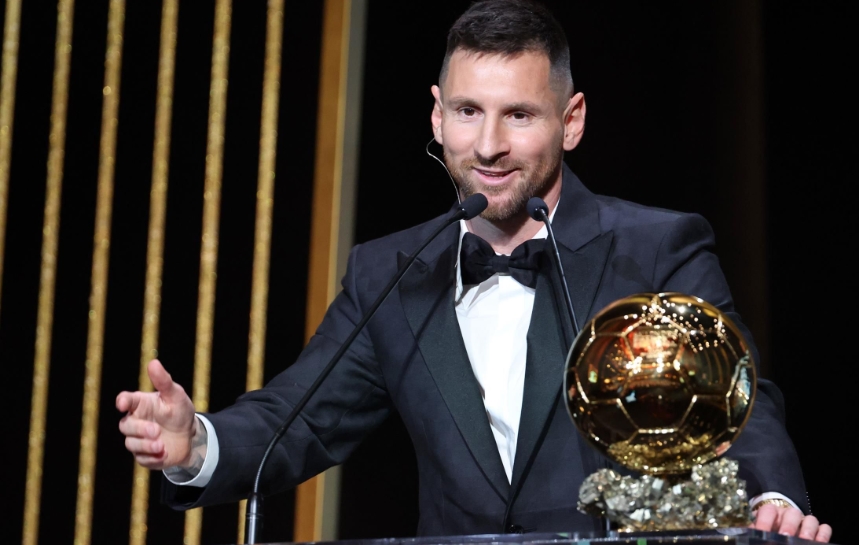 How many Ballon d'Or does Messi have?
Lionel Messi has won eight Ballon d'Or. This latest addition to his remarkable trophy collection complements his previous victories in 2009, 2010, 2011, 2012, 2015, 2019, and 2021, showcasing his exceptional and enduring excellence in the world of football.
Ballon d'Or 2023: List of all the winners
Here is a compilation of the recipients of awards at the 2023 Ballon d'Or ceremony.
Ballon d'Or - Lionel Messi (Inter Miami, Argentina)
Ballon d'Or Feminin - Aitana Bonmatí (FC Barcelona Femení, Spain)
Kopa Trophy for the best male U-21 player - Jude Bellingham (Real Madrid, England)
Gerd Müller Trophy for the highest-scoring male striker - Erling Haaland (Manchester City, Norway)
Yachine Trophy for the best male goalkeeper - Emiliano Martínez (Astona Villa, Argentina)
Socrates Award to acknowledge humanitarian work - Vinicius Junior (Real Madrid, Brazil)
Club of the Year - Manchester City
Women's Club of the Year - FC Barcelona Femeni
Ballon d'Or 2023 Power Rankings Top 10 - Messi, Haaland, Mbappe Ballon d'Or nominations