The 2023 Ballon d'Or, hosted by France Football, marks the 67th edition of this prestigious ceremony celebrating the finest footballers of the 2022-2023 season. Departing from tradition for the second time, the award will be based on season results, spanning from August 1, 2022, to July 31, 2023. Set to take place on October 30, 2023, with the list of nominees unveiled on September 6, 2023, the Ballon d'Or remains a highly anticipated event following the recent FIFA World Cup. Hosting the ceremony will be Chelsea legend Didier Drogba, who has previously presided over the last three Ballon d'Or galas alongside French journalist Sandy Heribert, adding to the excitement surrounding this year's event.
Ballon d'or Date, Time and Venue
The eagerly anticipated 2023 Ballon d'Or ceremony is scheduled to grace the stage on October 30 at the Théâtre du Châtelet in Paris, France, as orchestrated by French Football. While the commencement time is expected to be 20:00 UK time, it's worth noting that such timings are subject to potential adjustments.
As of now, official broadcasting details for the ceremony have not been disclosed. However, following the pattern of the 2022 edition, fans may likely have the opportunity to tune in to the event via platforms such as the L'Equipe YouTube channel and website, as well as the Eurosport website and app, providing a seamless viewing experience akin to the previous year.
2023 Ballon d'Or host Didier Drogba
The host for the 2023 Ballon d'Or is none other than Didier Drogba. Born on March 11, 1978, Drogba hails from Abidjan, Ivory Coast, and is a retired Ivorian professional footballer renowned for his role as a striker. He holds the distinction of being the all-time leading goal scorer and former captain of the Ivory Coast national team. Drogba's illustrious career is most prominently associated with Chelsea, where he holds the record for the highest number of goals scored by a foreign player and ranks as the club's fourth-highest goal scorer in history.
Drogba took on the role of co-host for the 2019 Ballon d'Or ceremony in Paris, joining forces with journalist Sandy Heribert for the event that unfolded on December 2, 2019. Their partnership continued as they co-hosted the subsequent ceremony on November 29, 2021, where Lionel Messi made history by securing the men's award for an unprecedented seventh time, and Alexia Putellas emerged victorious in the Ballon d'Or Féminin category.
Ballon d'Or 2023 Power Rankings Top 10
The intense competition for the 2023 Ballon d'Or has reached its conclusion, with elite footballers from around the globe striving over the past year to claim the prestigious Golden Ball and succeed the 2022 recipient, Karim Benzema. As the anticipation builds towards the grand ceremony set to unfold in Paris on October 30, here's a glimpse at the top 10 contenders in the Ballon d'Or 2023 Power Rankings.
1. Lionel Messi (Inter Miami)
Among the notable contenders is Lionel Messi, who now wears the colors of Inter Miami. His remarkable performance, marked by 37 goals and 24 assists, firmly positions him as a frontrunner for the prestigious award. His accomplishments, including securing the World Cup and the Trophée des Champions, further solidify his candidacy. While his offensive prowess brilliantly mirrors Argentina's World Cup victory, a minor setback emerged due to a suspension by PSG in 2023 and a brief period of poor form, potentially impacting his overall standing in the race.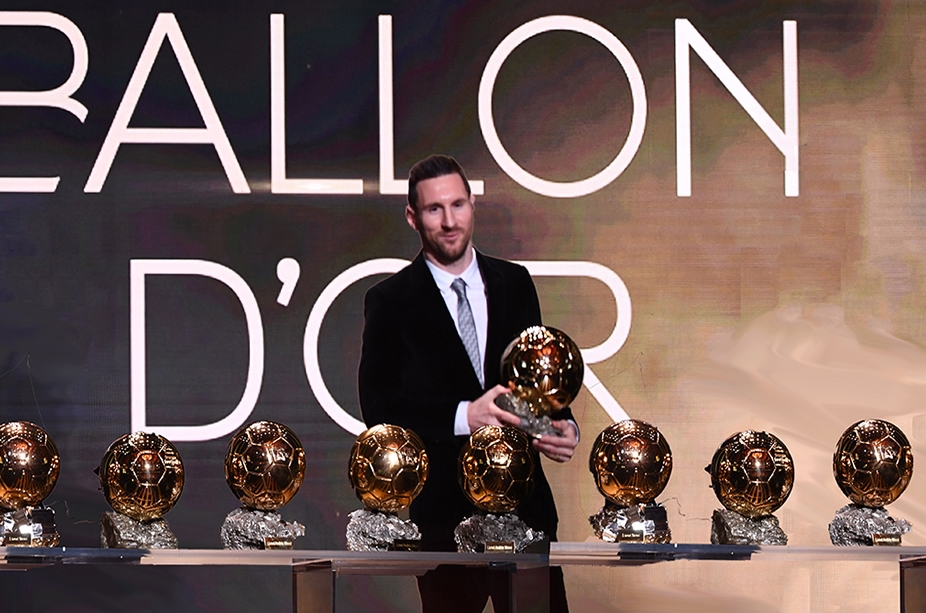 Everything To Know About Messi
2. Erling Haaland (Manchester City)
Erling Haaland's remarkable feat of netting 52 goals and contributing 8 assists during the season catapulted him into the limelight, finishing the campaign with an impressive tally of at least 60 goals. His pivotal role in Manchester City's title-winning journey elevated the team to an exceptional echelon of football excellence. Their triumphant conquest included victories in the Champions League, Premier League, and FA Cup. Throughout the season, Haaland shattered numerous records, sparking widespread anticipation that he would ascend to the pinnacle of the Ballon d'Or rankings by the end of the campaign, particularly during the late April period when his dominance seemed inevitable.
3. Kylian Mbappe (Paris Saint-Germain)
Kylian Mbappe holds a strong belief in his prospects of clinching the 2023 Ballon d'Or, and the case for his victory is compelling. In the 2022-2023 season, he delivered a remarkable performance, amassing 48 goals and providing 13 assists. Notably, PSG's focus in recent weeks has revolved around Bappe's strike partner, with expectations that his goal-scoring prowess would contribute significantly to their success in Ligue 1. Mbappe secured yet another league title and achieved the prestigious Golden Boot at the World Cup, capped by a stunning hat-trick in the final, solidifying his contention for the Ballon d'Or.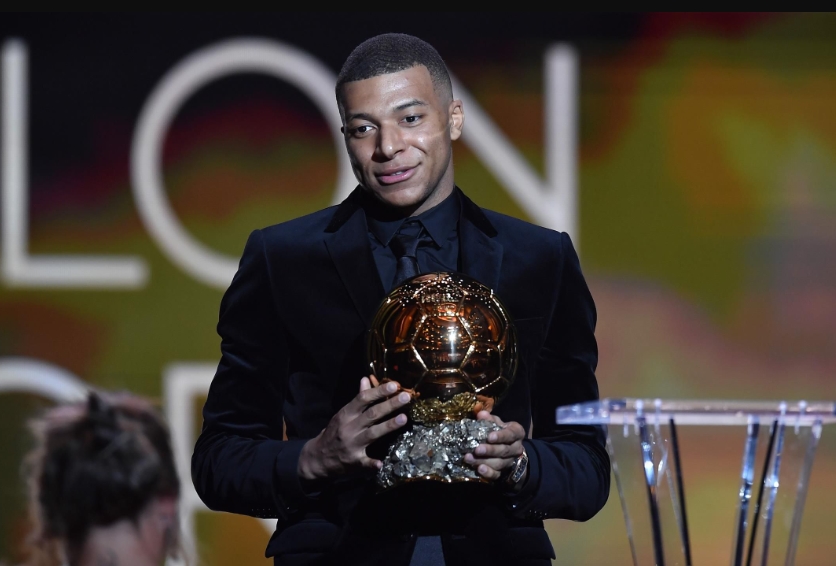 Everything To Know About Kylian Mbappé
4. Vinicius Jr. (Real Madrid)
Vinicius Junior, representing Real Madrid, clinched the Copa del Rey, Club World Cup, and UEFA Super Cup in the 2022-2023 season, amassing an impressive tally of 23 goals and 25 assists. His consistently exceptional form and remarkable assists for the opening goals have been a standout feature. Despite enduring challenges from opposition fans in Spain throughout the season, Vinicius Jr. has firmly established himself as a world-class talent. While falling short in the Champions League may impact his chances at the Ballon d'Or podium this time, his profile strongly suggests that he is a future contender for the award.
5. Karim Benzema (Al-Ittihad)
Karim Benzema, ranking fifth in the 2022-2023 season with 29 goals and six assists, secured victories in the Copa del Rey, Club World Cup, and the UEFA Super Cup. Despite recent discussions regarding his fitness, Benzema's remarkable ability to perform at a high level even when not at 100% marks him as a truly exceptional player. His capacity to score a hat-trick even under less than ideal conditions demands the utmost vigilance from Manchester City's defense when facing him.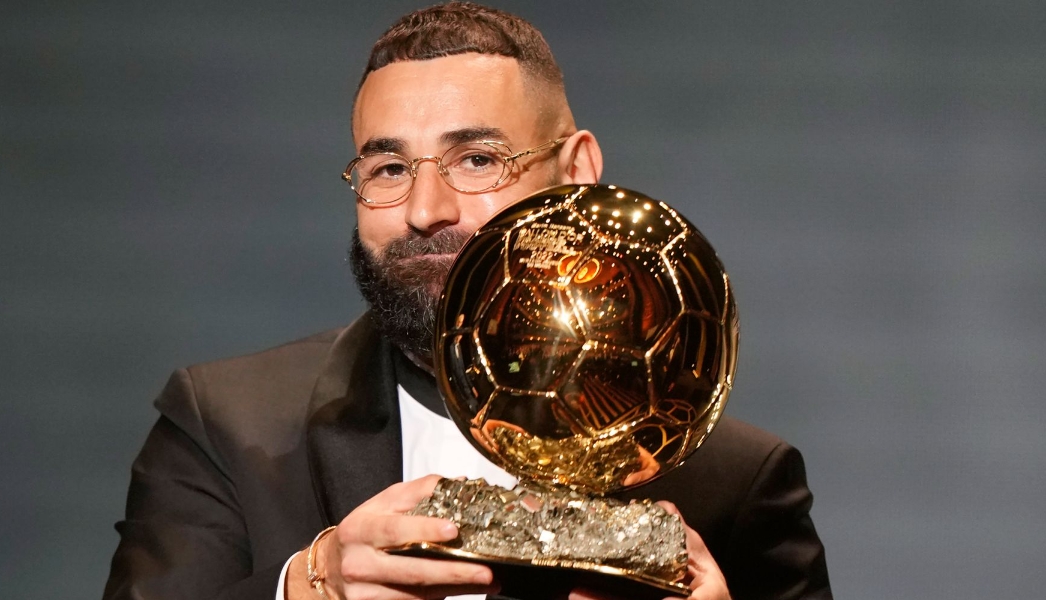 6. Victor Osimhen (Napoli)
Victor Osimhen secured the sixth position in the Ballon d'Or 2023 Power Rankings, courtesy of his remarkable performance, which included 28 goals and 5 assists along with winning the Serie A title. Osimhen's legacy in Naples is etched in history as his goal clinched Napoli's first Serie A championship in 33 years. His outstanding season made him the ideal candidate to deliver this long-awaited triumph. However, the focus has now shifted to the challenging task of retaining Europe's most sought-after forward as speculation mounts about his future in the upcoming summer transfer window.
7. Khvicha Kvaratskhelia (Napoli)
Khvicha Kvaratskhelia, with 16 goals and 17 assists in the 2022-2023 season, clinched the Serie A title. This Georgian winger has proven to be a standout signing in European football, consistently confounding defensive setups wherever he plays. Known as 'Kvaradona,' he stands out as one of the most challenging wingers to defend against anywhere on the continent, making him a formidable force in the football world.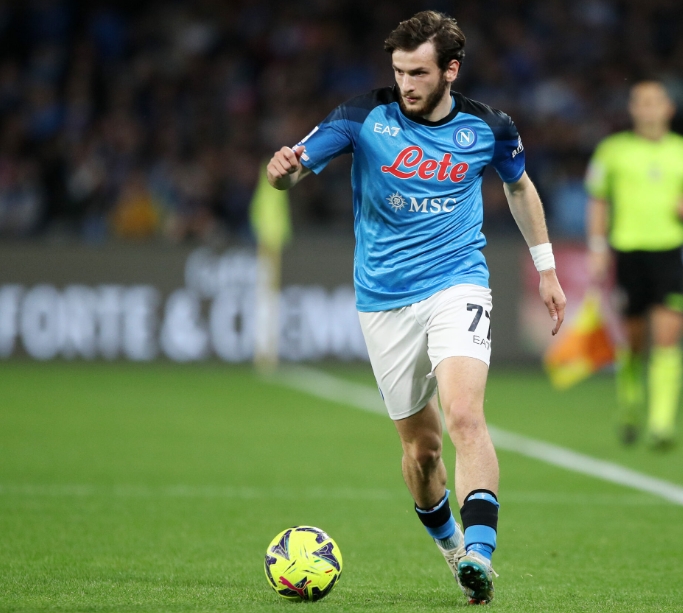 8. Kevin De Bruyne (Manchester City)
Kevin de Bruyne, who tallied nine goals and 29 assists for Manchester City during the 2022-2023 season, hit his peak performance in the last two months, significantly contributing to City's quest for success. His exceptional form played a pivotal role in City's triumph, securing victories in the Champions League, Premier League, and FA Cup. Widely regarded as the premier playmaker of his generation, De Bruyne's resurgence throughout the season's latter stages was instrumental in City's remarkable achievements. Although his history with injuries in Champions League finals hasn't been favorable, he finally tasted European Cup victory on this occasion, cementing his status as a football legend.
9. Marcus Rashford (Manchester United)
Marcus Rashford netted 32 goals and provided 11 assists during the 2022-2023 season, securing a Carabao Cup victory. Although Rashford's form experienced a slight dip following his impressive run at the end of the year, Manchester United fully supports him as he strives to maintain his outstanding performance levels. Rashford aspires for the brilliance he exhibited between December and February to be a harbinger of his future career, rather than just a fleeting hot streak. If this trajectory endures, he is poised to be a prominent figure in the Ballon d'Or conversation for the next several years, promising a bright future ahead.
10. Robert Lewandowski (Barcelona)
Robert Lewandowski demonstrated his goal-scoring prowess during the 2020-2023 season, tallying 31 goals and contributing 9 assists while securing a Supercopa de España victory. Although Lewandowski's form didn't create shockwaves, his crucial goals propelled Barcelona's ascent to the La Liga championship. While the Ballon d'Or may remain a distant dream for him, Lewandowski's remarkable consistency in winning league titles continued as he played a pivotal role in returning Barca to the summit of Spanish football. His achievement, despite occasional dips in form, underscores his enduring talent and unwavering impact, all this at the age of 35, showcasing his remarkable ability and longevity in the sport.