Zoe Saldaña, the talented American actress renowned for her roles in Avatar, Avatar: The Way of Water, and Avengers: Endgame, is happily married to her husband, Marco Perego, a skilled Italian artist. Their love story began in May 2013 when they were caught sharing a kiss at an afterparty, and fate brought them together on a flight to New York earlier that year, igniting a strong connection even before laying eyes on each other. Zoe had been aware of Marco's artistic prowess since 2008. In April 2013, they officially started dating and swiftly tied the knot just two months later in June 2013. Over the past decade, their relationship has blossomed, and they now revel in the joy of parenthood, raising their three children: twin sons, Bowie Ezio and Cy Aridio, and their third son, Zen.
Who is Zoe Saldaña?
Born on June 19, 1978, Zoe Saldana is a multi-talented American actress, producer, writer, and voiceover artist, currently aged 45 as of 2023. Her impressive career boasts an array of iconic roles, including Nyota Uhura in "Star Trek," Gamora in the Marvel Cinematic Universe films from "Guardians of the Galaxy" to "Guardians of the Galaxy Vol. 3," Neytiri in "Avatar" film series, Rosemary Woodhouse in "Rosemary's Baby," Regina in "Six Degrees," Aisha in "The Losers," Elaine in "Death at a Funeral," Nina Simone in "Nina," Laila in "Drumline," Theresa Jones in "Guess Who," María Posada in "The Book of Life," and Cataleya Restrepo in "Colombiana."
In 2019, she attained the status of the 2nd highest-grossing film actress of all time, attributed to her exceptional performances in three of the five highest-grossing films ever made: "Avatar," "Avengers: Infinity War," and "Avengers: Endgame." Continuing to leave an indelible mark in the entertainment industry, she graced the screen in the science fiction film "The Adam Project" and took part in the romantic drama miniseries "From Scratch," both released on Netflix in 2022. As a testament to her influence and impact, Time magazine recognized her as one of the 100 most influential people in the world in the year 2023.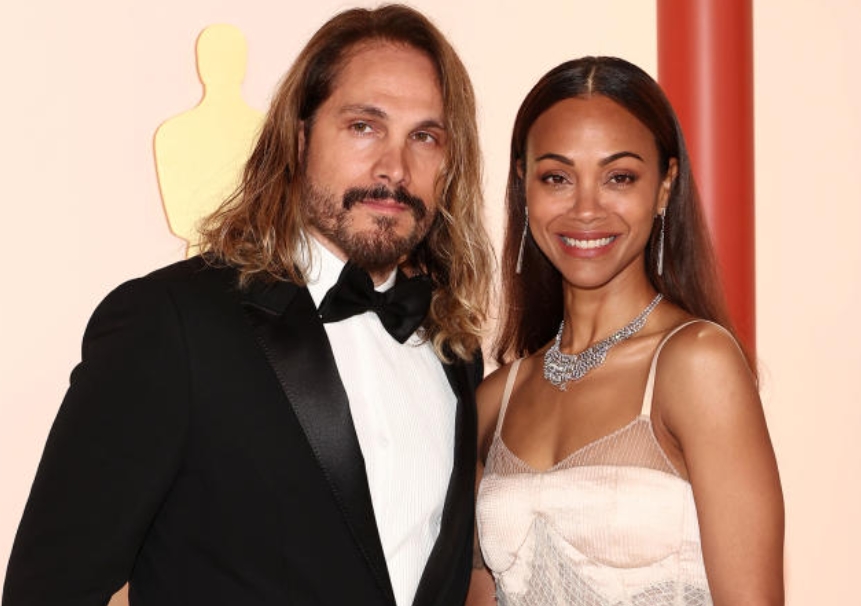 Who is Marco Perego, Zoe Saldaña's Husband?
Born on March 1, 1979, Marco Perego is an Italian producer and director, currently aged 44 as of 2023. His notable works include "Keyhole Garden" (2021), "Burn to Shine" (2015), "Me + Her" (2014), and "Black and White Stripes: The Juventus Story" (2016). Before making his mark in the film industry, he humbly began his journey with various minor jobs such as being a busboy, server, and soccer coach. Recognizable by his distinctive appearance, characterized by long hair and a resemblance to Johnny Depp, he has earned the affectionate nickname "Pirate Perego."
Beyond his achievements in filmmaking, Marco has displayed his versatility by appearing alongside Zoe Saldana, his wife, as well as renowned singer-songwriter Alicia Keys and Miguel in their music video "Show Me Love." Moreover, Marco is a talented artist, showcasing his mastery in clay art and painting, which adds another dimension to his creative pursuits.
5 Things about Zoe Saldaña and Marco Perego Relationship
Zoe Saldaña and Marco Perego met on a flight to New York
Zoe Saldaña and Marco Perego's encounter occurred during a chance flight to New York. As fate would have it, Zoe noticed Marco from afar, gazing at the back of his head from her seat. An inexplicable connection drew them closer, prompting Marco to turn around and lock eyes with Zoe, both instantly sensing an indescribable bond. In that fleeting moment, they felt as if destiny had intertwined their paths, hinting at a future where they were meant to be together.
Zoe and Marco have been married for over ten years
Celebrating a decade of love and togetherness, actress Zoe Saldana and her husband Marco Perego Saldana have cherished a remarkable journey of marriage, blessed with three beautiful children: six-year-old Zen and eight-year-old twins Cy and Bowie. Having tied the knot in a heartfelt ceremony in London back in 2013, Zoe and Marco maintain a private stance on social media while openly expressing their admiration for each other and their harmonious union. Their enduring love and compatibility continue to thrive, a testament to the strength of their bond as they gracefully embrace the passing of time together.
Perego exchanged his surname with his wife's last name, Saldaña
Zoe and Marco's wedding announcement in London back in 2013 surprised their fans as they sported matching wedding bands, and PEOPLE later confirmed their intimate ceremony that summer. However, what truly astonished many was Marco's decision to adopt Zoe's surname, making him Marco Perego-Saldana. Despite Zoe's initial concerns, Marco remained resolute, explaining that he didn't care about societal expectations or judgments from the artistic or Latin communities. In a heartwarming revelation shared by the Star Trek actress in 2015, she recalled his response, "Ah, Zoë, I don't give a sheet." This act of love and defiance by Marco exemplifies the strong bond they share, adding a sweet and unique dimension to their already inspiring relationship.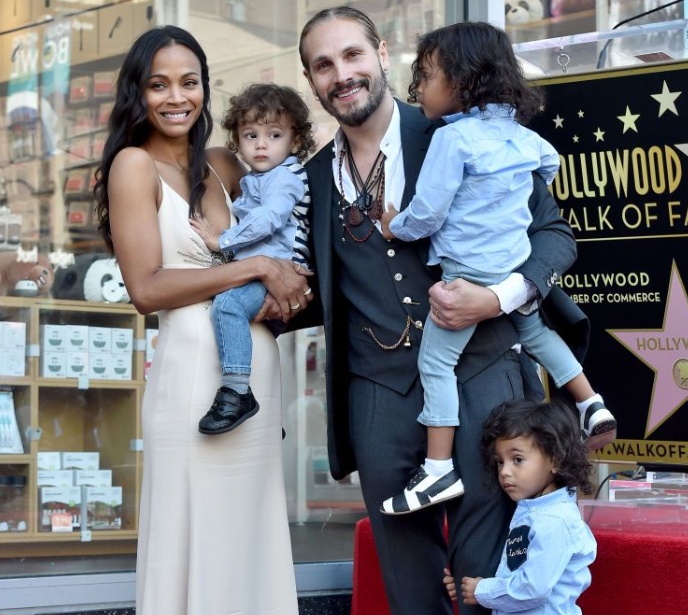 Marco and Zoe are teaching their children three languages
In their multicultural household, Marco and Zoe have taken on the admirable task of teaching their children three languages. As revealed by Zoe on Jimmy Kimmel Live! in June 2015, the couple converses with their kids in English, Italian, and Spanish, creating a rich linguistic environment. However, with such linguistic diversity comes the challenge of harmonizing family titles. Zoe shared her humorous concerns about this aspect, as her mother prefers to be called "mama" in Spanish, while Zoe goes by "mommy" in English, and Marco's mother is referred to as "la nonna." The delightful complexity of managing these endearing titles adds a charming layer of uniqueness to their family dynamics as they embrace the richness of their diverse heritage.
Marco was a professional soccer player
Marco's life took an unexpected turn when his promising career as a professional soccer player was cut short by a debilitating injury. Hailing from Italy, where soccer was an integral part of his upbringing, Marco displayed remarkable talent and was even invited to join Venice's esteemed professional team. Tragically, at the young age of 21, a severe leg injury shattered his dreams on the field, compelling him to retire from the sport. Undeterred by this setback, Marco courageously charted a new path and relocated to New York City to pursue his passion for the arts. Embracing the spirit of resilience, he embarked on a creative journey, carving out a different but equally fulfilling chapter in his life.