Shayanna Jenkin is an American woman from Bristol. She is widely known as Fiancé of Late Aaron Hernandez, the footballer of New England Patriots' tight end. Aaron's life was perfect before he murdered his own friend Odin Lloyd. He committed suicide in April 2017. Shayanna and Aaron have their four years daughter named Avielle.
Let us explore some facts about Shayanna Jenkins, Aaron Hernandez Former Fiancee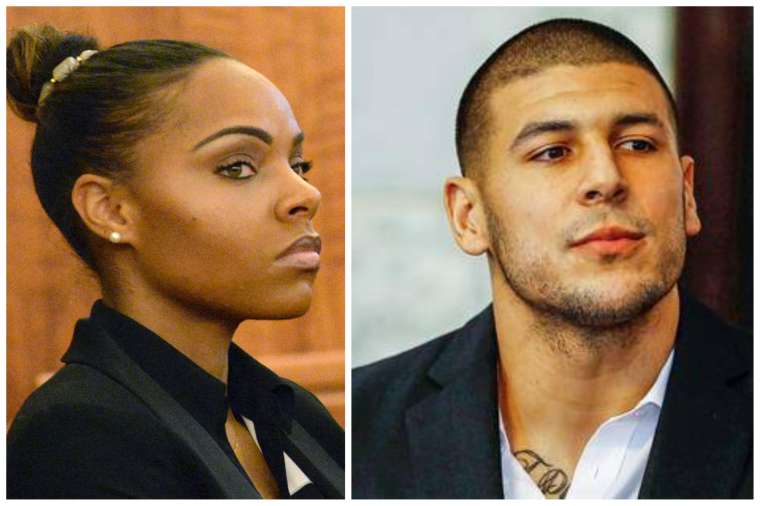 1. Shayanna started her dating with Aaron from the middle school
Shayanna and Aaron were neighbors, so they knew each other from school time. Shayanna started flirting with Aaron and their relationship had started. They were in middle school when they were dating. However, Aaron wasn't a faithful boyfriend as he used to flirt anyone who was attracted to him.
2. Odin was her Brother in law
Odin was killed by Aaron who was her sister's boyfriend. Odin was also a footballer he used to play for Boston Bandit as a linebacker for the semi-pro football team the Boston Bandits. Aaron and Odin became friends due to their girlfriends, as their girlfriends were sisters.
3. She was a loyal girlfriend
In the court she said that she threw a box from the basement as Aaron ordered her to do, she disposed that box using Shannah's car and she did not see what was there in the box, where might have a weapon that used to kill Odin. Her daring to lie in front of the curt and even lied to her sister clearly shows her loyalty towards Aaron.
4. She was playing the role of a good wife
Shayanna and Aaron never get married though she had changed her name as Shayanna Jenkins Hernandez. As we mentioned already above that Shayanna loves Aaron that much she dare to lie in the court. Not only that when they started their relationship Aaron wasn't faithful though Shayanna was committed with him. Later when they were in the living relationship Aaron used to do physical and mental abuse to her, even one day she called the police neither she give up with him nor she left Aaron. She lived her life as a wife of Aaron Hernandez.
5. She stood with Aaron instead with her sister
She has a blood relationship with her sister and she knew that Aaron was guilty though she supported her boyfriend without thinking of her own future. Not only that she helped Aaron to the disposed of the suspected box which might be evidence.
6. Her boyfriend was gay
Investigators reveal that murder of Odin Lloyd was held to hide Aaron's bio sexuality secret. Aaron was involved in sex with both men and women. He has a boyfriend Kyle Kennedy now in prison said he wanted to marry Aaron. Kennedy and Aaron were drug business partner as well now Kennedy is in police custody.
Who is Aaron Hernandez? Is he Gay?
7. Shayanna is in another relationship
As Aaron committed suicide in April 2017, now she moved with another football star, bar owner, and boxer Dino Guilmette. Guilmette and Aaron were played at The University of Florida. Shayanna gave birth to a baby girl of Guilmitte now they have two daughters.
8. Guilmette engaged with Shyanna because both have the same past
As said by Guilmette he accepted a relationship with Shayanna that's because both of them have the same past. He also has a baby from his past and Shayanna also has a baby daughter from Aaron.