Jimmy Buffett was an iconic American musician and singer-songwriter renowned for his tropical rock music, which often portrayed a lifestyle described as "island escapism" and promoted enjoying life and following passions. His chart-topping hits, including the classics "Margaritaville" and "Come Monday," became anthems of leisure and relaxation. Among his extensive repertoire, songs like "Fins," "Volcano," "A Pirate Looks at Forty," "Cheeseburger in Paradise," "Why Don't We Get Drunk," and "Changes in Latitudes, Changes in Attitudes" held a special place in the hearts of his devoted fans.
Born on December 25, 1946, Jimmy Buffett hails from Pascagoula, Mississippi, USA. He spent his early childhood in Mobile and Fairhope, Alabama. He was the son of Mary Lorraine (née Peets) (died September 25, 2003) and James Delaney Buffett, Jr. (died May 1, 2003) who worked for the United States Army Corps of Engineers. He has two younger siblings, Laurie and Lucy.
Jimmy Buffett Death
On September 1, 2023, at the age of 76, Jimmy Buffett peacefully died from this world at his Sag Harbor, New York home, ultimately yielding to the formidable challenges posed by Merkel-cell carcinoma, an uncommon and aggressive skin cancer he had valiantly confronted for a span of four years. The "Margaritaville" singer died Saturday surrounded by his friends, family, music, and dogs, according to an announcement posted on his website. The poignant statement eloquently conveyed, "He lived his life like a song till the very last breath and will be missed beyond measure by so many."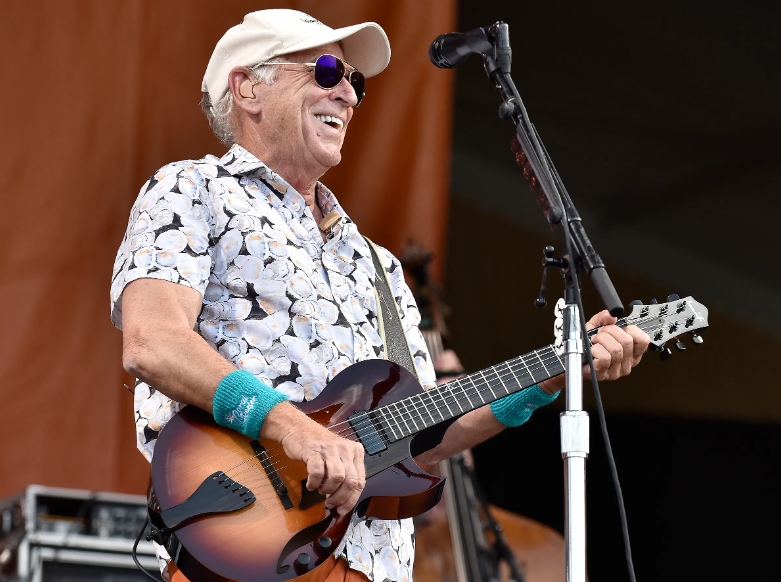 Facts About Jimmy Buffett
Jimmy Buffett was also an actor
Jimmy Buffett made numerous cameo appearances throughout his career, gracing the screen in films such as "Repo Man," "Hook," "Cobb," "Hoot," "Congo," and "From the Earth to the Moon." He also played himself in "Rancho Deluxe," where he contributed to the film's music, and in "FM." His recurring guest role as Frank Bama in the second season of CBS's "Hawaii Five-0" in 2011 was followed by return appearances in subsequent years, including 2013, 2015, 2017, 2018, 2019, and 2020. Moreover, he made a memorable cameo in the 2015 blockbuster "Jurassic World," sipping on two margaritas amidst the chaos unleashed by dinosaurs in the park.
He played the trombone in his school band
During his school years at St. Ignatius School, Jimmy Buffett displayed his musical talents by playing the trombone in the school band. This early exposure to music laid the foundation for his future endeavors in the world of entertainment. He completed his education by graduating from McGill Institute in 1964.
He was married two times
Jimmy Buffett's marital journey saw him first wed Margie Washichek from 1969 to 1971. His second marriage took place on August 27, 1977, when he married Jane (née Slagsvol). The couple shared the joys of parenthood, welcoming two daughters into their lives, Savannah Jane and Sarah Delaney. Interestingly, Sarah was initially slated to bear the name Sara Loraine, a homage to her grandmother, before ultimately being christened as Sarah Delaney in honor of her grandfather. Additionally, the Buffetts extended their family by adopting a son named Cameron Marley. While Jane and Jimmy briefly parted ways during the 1980s, they later reunited in 1991, and their enduring bond endured until his passing in 2023.
He has published three books
Jimmy ventured beyond his musical career, demonstrating his literary prowess by authoring three books, each earning a coveted spot on The New York Times Best Seller list. His works "Tales from Margaritaville" and "Where Is Joe Merchant?" enjoyed an enduring presence, spending over seven months gracing the Best Seller fiction list. Additionally, Buffett ventured into the realm of children's literature, co-authoring "The Jolly Mon" and "Trouble Dolls." Notably, his novel "A Salty Piece of Land" captivated readers upon its release on November 30, 2004, further solidifying his status as a multi-talented storyteller.
He was also a successful businessman
In addition to his music and entertainment career, Jimmy Buffett demonstrated prowess as a thriving entrepreneur. His business ventures include a chain of restaurants bearing names inspired by his songs, namely the "Margaritaville Café" and "Cheeseburger in Paradise." Further expanding his brand under the Margaritaville umbrella, he ventured into various markets, including footwear retail, casinos, and food products like chips, salsa, and chicken, amongst others. In May 2013, he introduced the Margaritaville Casino in New Jersey.