Quinn made history at the 2023 FIFA Women's World Cup as the first trans or non-binary footballer to participate in the prestigious event. Quinn started Canada's match against Nigeria on Friday at the Women's World Cup, ending in a goalless draw. Quinn played the full 90 minutes but was unable to help the team find a breakthrough as their campaign got off to a frustrating start. Quinn, formerly known as Rebecca Quinn, is a highly talented Canadian professional soccer player, an Olympic gold medallist, and a midfielder for the National Women's Soccer League club OL Reign and the Canada national team. Quinn's impressive career includes playing for renowned clubs such as Paris FC in France's top league, Division 1 Féminine (D1F), Vittsjö GIK in the Swedish Damallsvenskan, and Washington Spirit in the NWSL. They were also the first Canadian to represent Duke University in collegiate soccer. Quinn's accomplishments extend to international competitions, having previously been part of Canada's under-17, under-20, and under-23 national teams. Their trailblazing journey continued at the 2020 Tokyo Olympics, where they became the first out, transgender, non-binary athlete to compete, win a medal, and achieve a remarkable gold medal victory.

5 Facts about Canadian Footballer Quinn, the first transgender to play at a FIFA Women's World Cup
1. Quinn was born female
Quinn, born initially female, has made an impactful journey in their 27 years of life. Born on 11 August 1995, Quinn is from Toronto, Ontario, Canada. In 2020, they bravely announced their non-binary identity, and despite this transformation, they continued their remarkable career in women's football. As a dedicated midfielder for OL Reign, they have proudly represented Canada's Women's national team in two additional major international tournaments after coming out, demonstrating their unwavering commitment to the sport and their country.
2. Quinn began playing soccer with a club team at the age of six
Growing up in a sports-oriented household in Toronto, Quinn's passion for soccer ignited at the tender age of six. Their father, Bill, a former collegiate rugby player, and their mother, Linda, who played college basketball, instilled a love for sports in their children. Alongside their three sisters, Quinn engaged in a myriad of athletic pursuits, including swimming, competitive hockey, and skiing. The year 2010 marked a significant milestone as they earned a spot in the under-14 provincial team, paving the way for their journey into the national-level youth program.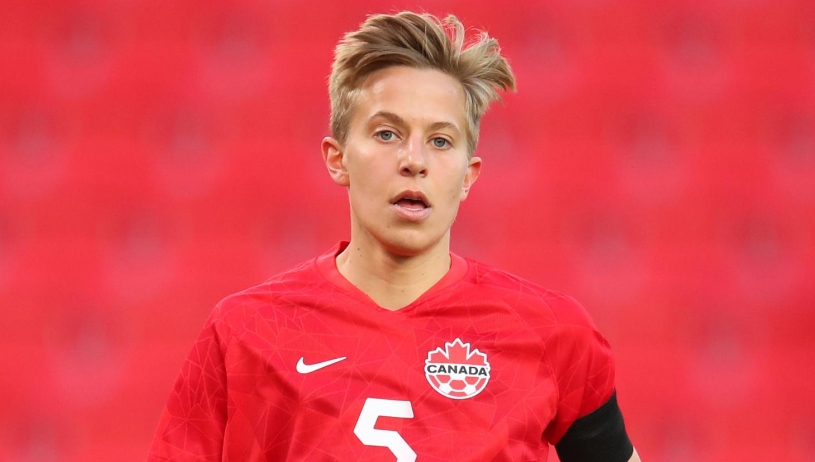 3. Quinn came out as non-binary and transgender in 2020
In 2020, Quinn courageously came out as non-binary and transgender, embracing gender-neutral pronouns and adopting their prior surname as a mononym. Despite their authentic identity, they were allowed to continue their professional women's soccer careers based on their sex assigned at birth rather than their gender identity. Expressing frustration with media using their birth name during their coming out, Quinn stressed the importance of using their chosen name and pronouns. Their historic journey reached new heights in July 2021 when they became the first openly non-binary transgender athlete to compete and achieve Olympic glory, becoming an Olympic Champion at the Games.
4. Quinn has represented Canada in several national teams
Quinn's international soccer career has been nothing short of impressive, showcasing their talent and dedication to the sport. They have proudly represented Canada across various national teams, including the senior, under-23, under-20, and under-17 squads. Back in 2012, Quinn began their journey with the U17 team, accumulating 8 appearances. Subsequently, they progressed to the U20 team, making 4 appearances in 2014, and the U23 team in 2015, where they made 5 appearances. As they continued to shine, Quinn's exceptional skills and determination led to a remarkable 91 appearances and 5 goals for the Canadian senior national team, solidifying their status as a key player on the international stage.
5. In 2023, Quinn became the first trans or non-binary footballer at the FIFA World Cup
Quinn achieved a historic milestone in 2023 by becoming the first trans or non-binary footballer to compete at the FIFA World Cup. Their presence on the world's biggest stage marks a significant step forward for inclusivity and diversity in sports, inspiring countless individuals and signaling a positive shift towards greater acceptance and recognition of gender identities in the world of football. During the Women's World Cup, Quinn commenced Canada's match against Nigeria on Friday, which resulted in a goalless draw. They played the entire 90 minutes, but unfortunately, despite their efforts, the team couldn't secure a breakthrough, leading to a somewhat frustrating start to their campaign.