Annah Gore is the wife of NFL player Tua Tagovailoa and is reportedly a businesswoman by profession. The Miami Dolphins quarterback, Tua Tagovailoa, married Annah Gore in a discreet wedding ceremony held in Florida on July 17, 2022. Initially opting to keep their nuptials under wraps, news of their marriage surfaced a few weeks later when it was announced by Andy Slater via Twitter on August 2, 2022. Since the public revelation of their marriage, both Tua and Gore have shared glimpses of their relationship on their respective Instagram accounts, although they continue to maintain a level of privacy concerning various aspects of their personal lives.

Who is Annah Gore?
Annah Gore, whose birth name is Annah Concetta Gore, was born on June 11, 1999, in High Point City, North Carolina, USA. She celebrated her 23rd birthday in 2023. She holds American nationality and has a mixed ethnicity. Annah is the daughter of Gary Gore and Christy Gore, and she has four siblings. Her educational journey took her from St. Gertrude High School to the University of Alabama.
Annah Gore and Tua Tagovailoa are said to have crossed paths during their high school years before both attended the same college. Nevertheless, it was her presence at several Miami Dolphins games to support her husband that brought her into the public eye. Following the revelation of their marriage, Tua Tagovailoa expressed that he loves to keep his personal life private. "I mean, for me, I love to keep my life as private as possible, and that's what we tried to do with me, my wife, and my daily. But obviously, in this world, that's not how it is."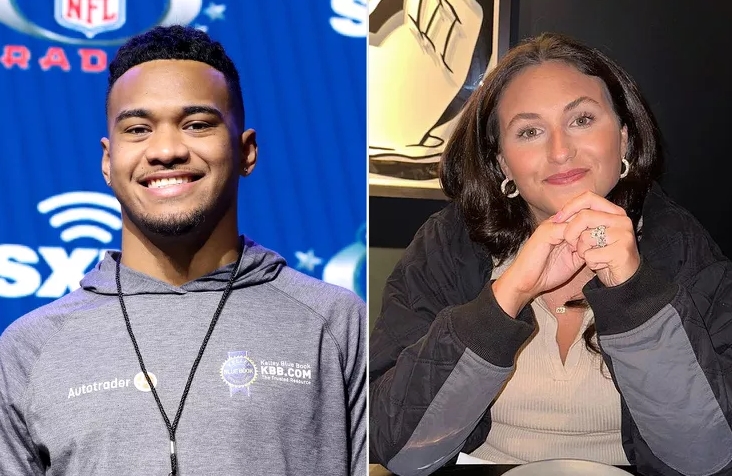 5 Facts About Annah Gore
1. Annah Gore is tight-lipped about her personal matters
Anna Gore, Tua Tagovailoa's wife, maintains a tight-lipped approach to her personal life. Her Instagram profile reveals her birthday as June 11 and identifies her parents, Christina and Gary Gore. Her mum is a realtor and her dad is a private wealth CEO. Anna has not shared much about her own career path. Reportedly, she works in the corporate sector in Virginia, USA, emphasizing her preference for privacy.
2. She married Tua just prior to the start of training camp
Tua Tagovailoa and his now-wife, Annah Gore, chose to exchange their wedding vows just days prior to the commencement of the 2022 Miami Dolphins Training Camp on July 26. The decision to have their wedding shortly before the camp created a special and memorable moment for the couple. Tua expressed his enthusiasm during a press conference, describing the event as "very special." However, he couldn't help but remark on the surprise surrounding the wedding, suggesting that someone may have leaked the news prematurely, joking that it seemed as though someone had been waiting outside the courthouse for a week to share the news.
Everything To Know About Tua Tagovailoa
3. Annah and Tua made their Instagram relationship official in 2023
In 2023, Tua Tagovailoa and Annah made their Instagram relationship official, despite secretly tying the knot in July 2022. They hadn't previously shared each other on Instagram, but on their one-year wedding anniversary, they decided to publicly acknowledge their romance. Annah posted a heartfelt message, celebrating their first anniversary and sharing a sweet photo of them together. Tua, the Miami Dolphins player, also marked the occasion with an Instagram post, expressing his love for his wife and breaking his usual privacy to celebrate their one-year anniversary.
4. Annah embraced Tua's surname
After marrying Tua Tagovailoa in July 2022, Annah Gore made the choice to embrace her husband's surname, adopting the name change as a symbol of their marriage. This decision was made evident when she updated her Instagram account, where her handle was switched to "annahtagovailoa," signifying her commitment to her new last name and the public acknowledgment of her marital status.
5. Annah has given birth to a son
Annah, the wife of the well-known NFL player Tua Tagovailoa, has given birth to a son, and they've chosen to name him Ace Tagovailoa. This new addition to the family is reported to have arrived in the year 2022, signifying a joyous and meaningful expansion of their household. With the birth of their son Ace, Annah and Tua are embracing the responsibilities and joys of parenthood, and it is a momentous occasion in their lives as they journey into this new chapter of raising their child together.